Not Dead...
by John Curnow, Editor, Sail-World AUS 21 Oct 08:00 AEDT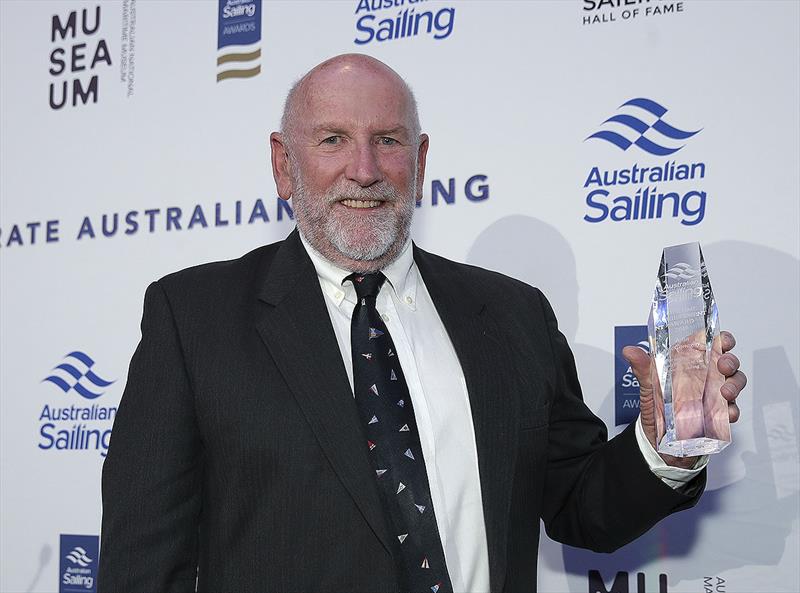 John McConaghy with his Lifetime Achievement Award © Gregg Porteous
A terrific statesman of yachting had Australian Sailing's Lifetime Achievement Award bestowed upon him on Friday night. In his acceptance speech, John McConaghy noted that usually they hand these out just before you departed, which he certainly hoped was not going to be the case with himself.
An enthusiastic, vigorous and energetic man, he certainly left those qualities behind in the company he founded: the one that still bears his name today. Quality, strength, and lightweight would be other notable hallmarks for the organisation that started out making timber skiffs and cats, but moved into far larger craft and composites, and for their time, other super-exotic materials took over the whole scene.
So thankfully neither John, nor the company, are not going anywhere, albeit that the Australian operation has physically moved from Mona Vale to Gosford a little while back. The proud heritage includes many of the world's greatest ocean racers, and one of them recently ducked in, and nearly as quickly burned back out, after a makeover.
Black Jack's modified and fuller bow section, and shorter tail, along with her rig further aft as a result, then her aft deck flare to widen the sheeting angle, and larger separation of her for'ard sails, is immediately evident when you look closely at her. You would think they have gained a smidgeon upwind in anything other than dead light, and she will be noticeably swifter off the breeze.
Wild Oats XI has certainly dominated Line Honours in the Sydney Hobart race since McConaghy made the near sisterships originally in 2005. Indeed, now that Black Jack has had her major refit taking her away from her Alfa Romeo II form, the two will once again look very similar. It is felt that WOXI will also go back to the single canard for'ard of the stick, so apart from colour, and Black Jack's more brutal bow, they will be close both up and downhill.
Bradford says, "You see it in many classes. The ones who put in the time rise to the top, eventually. Half of our crew has sailed supermaxis all year on either Black Jack or Rambler 88, and that amounts to 11 or 12 regattas. One thing I can say is that we are faster than we were in 2018."
Above it all there is the dedication of Peter Harburg to the sport and his campaign with Bradford and the crew. That faith means it was a collection of very familiar names that produced Black Jack 100 V2. They are all known entities for their skill and quality, to say nothing of overall speedy timing that ensured Black Jack popped out of McConaghy's Gosford facility, pretty much bang on time.
So you had Reichel/Pugh create the naval architecture, Brett Ellis doing engineering, Sydney Rigging, Tim Webster (Sydney Composite Solutions), North Sails, as well as Alex Nolan, and Liam Wolf from Black Jack Racing, all combining to produce the end result. Importantly, even though 19 years have passed, so many of the team were there in various capacities for her birth way back when, and delighted to once more create a maritime work of art.
On that very point, and with many thanks to the entire team, I can personally attest to the thinking, the workmanship, the drive, the foresight, and the appreciation that has delivered this outcome. Being granted full access twice during her update was both a delight and eye opening. No matter what you might think, having this sort of quality presented before you is magnificent, and to those who sail on her, you know that she will be as light and strong as possible, so giddy up!
There is a video of it all which you can watch here.
Art and water do mix
In 2015, as the then President of the Art Gallery of NSW and leading the planning of the Art Gallery of NSW's doubling of capacity through the Sydney Modern Project, Guido Belgiorno-Nettis would go on to take a key element of that over to the creation of Shearwater. His newest boat would arguably be one of the finest works of art this side of the great liners, SS Normandie, France, or United States.
Already the owner of a glorious performance cruiser, Satori, Belgiorno-Nettis had been pondering for some seven years, as to how he would go about it all again. He had developed a detailed specification that amounted to several pages. It looked at sail plan, keel, materials, length, draft, internal layout and so forth.
Having completed the architectural competition for the selection of the designer for Sydney Modern, he thought it would be a good thing to take this idea to yachting. Belgiorno-Nettis had already selected his builder, McConaghy Boats Australia, for they had done such a good job with Satori. In a stroke of good fortune, John McConaghy himself, who had retired by now, was able to become his owner's representative, and together they assembled their thoughts and sent the documentation out to five naval architects for their consideration.
What they had was really a specification for a mini superyacht; so very unique, very challenging to build, and requiring great skills to deliver to the standards required. Mani Frers was selected, for as Belgiorno-Nettis says, "When I started to talking with Mani, he just got it. He had the ideas and aesthetic that I loved."
What ensued was a three year cycle from inception to launch: the hull form got signed off so that McConaghy could begin on that, and then there were items like rig configuration, sail plan, and all the myriad of details that make her special. Belgiorno-Nettis says he was the last word on weight saving, something McConaghy is well known for across the board, along with strength, stating, "We saved tonnes. Normally a 57' cruising boat would be around 18 tonnes, but we are just 13.5."
"This was the last boat Steve Moxham worked on before retiring. His artwork can be seen in the companionway steps, wheels, pedestals, steering systems, as well as input on all the special and elegant elements. Andy Pether will follow Steve and will be another genius soon enough. But all the boatbuilders at McConaghy were special for me."
"Michelle and I go out every weekend on Sydney Harbour and Pittwater. We are still intoxicated with her, even though she has been in the water for a year. I've had time to sort out the little things to make her just right, and indulge in perfecting the innovations. I want to get more confident with her functionality and sailing systems, before we go too far away from home."
"Next June we will race her from Sydney to Noumea with Adrienne Cahalan, Chris Nicholson, Michelle and a couple of friends on board, which should be very special. Michelle and I will then cruise New Caledonia, and give Shearwater the real cruising christening she deserves! The year after is the new Sydney to Auckland race ahead of the America's Cup, and then we'll wander around the Bay of Islands."
Not dead, nor buried
So if you are only as good as the project you are working on right now, as opposed to the ones you have finished, then a brand new Harry Dunning penned 44-foot racer for a US client is a pretty good mark of your status. This craft is being built to what can only be described as the Nth degree. For that reason alone, you know the owner made a prudent choice, both from a craftsmanship and financial POV.
Speaking of good calls, and with Chinese and Vietnamese warships facing off against each other, then you could imagine that roaring along in the South China Sea is not entirely prudent. The organiser went from race to rally, and imposed a massive exclusion zone, but barrelling in at over 30 knots could have a trigger-happy naval gunner looking for the missiles. Not so good if you are on board Scallywag/FUKU that won the rally BTW.
Right oh - here today there are some gems for you to review like Team INEOS on foils, IDEEC Sport heads into the Indian Ocean, 2.4m, Australian Sailing Awards, the new Jeanneau 3300 Sun Fast goes for a yacht, the Hobart, 18-Footers (which I saw today from the delightful Royal Prince Alfred Yacht Club in Point Piper, The Ocean Race, The Golden Globe, Festival of Sails, and certainly there is much, much more below.
Remember, if your class or association is generating material, make sure we help you spread your word, and you can do that by emailing us. Should you have been forwarded this email by a friend, and want to get your very own copy in your inbox moving forward, then simply follow the instructions on our newsletter page, where you can also register for different editions.
Finally, keep a weather eye on Sail-World. We are here to bring you the whole story from all over the world...
John Curnow
Editor, Sail-World AUS